Descendants Of John David Dobie & Isabella Russell :
John David Dobie and Isabella Russell were probably both born in Dumfries, Scotland, c. 1812, and were married there c. 1834. The family moved to Birkenhead, England, just across the Mersey River from Liverpool, where John, a stonecutter, worked on construction of the Liverpool docks. Coming to Canada in 1849, they settled first in Toronto and then in Chatsworth, Ont. where they both are buried. Their nine children lived in Bruce Mines, Thessalon, Owen Sound and Port Arthur (now part of Thunder Bay), all in Ontario.
---
Detail from the gravestone of John Dobie and Isabella Russell in Chatsworth, Ontario.
---
Descendants of John David Dobie & Isabella Russell.

Descendant lists, photographs, obituaries, documents, etc.

Photos of the Chatsworth graveyard and War Memorial. John and Isabella Dobie are buried in the United Church graveyard in Chatsworth Ont. Here are a few photos I took there in October 2005 of their gravestone as well as of the gravestone of

John McKessock

and his wife

Elizabeth Dobie

(daughter of John Dobie and Isabella Russell). There are also photos of the War Memorial in Chatsworth, engraved with the names of

J. Milton

Dobie, William J. McKessock, and two

Galbraith

men who may or may not be connected to us.
Updated with two earlier photos from

M. J.

McCarron.
Two photos of the old Dobie farm near Chatsworth, Ont. This farm was once owned by

John Dobie

and

Isabella Russell

, and is just a short drive from the Chatsworth cemetery (see the photos above). They moved there from Toronto in the mid-1850's. These photos were sent to me by

M. J.

McCarron.
Dobie-Sutherland photograph album. Photos mostly of the family of

Annie Louise (Dobie) Sutherland

who lived in Lytton, BC, 1890's, and her nieces and nephews in Port Arthur, Ontario. Annie was a daughter of

William Currie Dobie

of Port Arthur, Ont.
Dorothy Dobie's photograph album. These photos are mostly of

Dorothy Dobie

and her younger brother

Russell

, taken in Port Arthur, Ont., c. 1906-10. In addition, the album contains many loose photos of family and friends, taken up to the 1930's. Several of the photos are also in the Dobie-Sutherland album above.
Bill Dobie's photograph album.

William Lovell Dobie

(my father) was a younger brother of Dorothy and Russ (see the photo album above). This 50-page photo album was given to him in 1922 when he was 13 years old and the photos range from then until he was in Queen's University in 1934. Most photos were taken in Port Arthur, Ontario, and at Queen's University in Kingston, Ontario, and many of his friends are named.
Biography of James Samuel Dobie. (Dominion Land Surveyor, Bruce Mines, Ont., 1873-1942).
Sailing Across the Atlantic Sixty Years Ago. Written by

William Currie Dobie

, from The Thunder Bay Historical Society Fifth Annual Report; Papers of 1914.

See the Richard Cobden's complete passenger list. The transcription of the passenger list of the Richard Cobden (261 names) which landed in New York City on 24 August, 1849. The Dobie people described in the article above are all listed here.

(Added January 3, 2018)

Dobie-related photos from Port Arthur, Virginiatown, Kearns & Atikokan Ontario.

(Updated November 6, 2014).

Dora (Dobie) Rust-D'Eye was the costume designer for Opera Atellier in Toronto, for over 21 years. This illustrated feature story on their production of Médée, ran in The Toronto Star on October 31, 2002.
Twenty Photos of the 1995 Dobie Clan Gathering at Tait's Corners. I dug these photos out during an archaeological dig in my files. So here they are, only 24 years late! The only people identified are

Morgan Coulthard, David Franklin Dobie, George Norman Dobie II, Marion Dobie, Margaret (Carlson) Dobie,

and

Louisa (Dobie) Shermerhorn.

(Revised May 8, 2019)
Descendants Of William Currie Dobie & Elizabeth Coulthard :
William Currie Dobie was the older brother of John David Dobie (box above) and the two families sailed from Liverpool to New York City together in 1849 (see the article and passenger list above). I don't know much about this family except what I extracted from Ontario Archives records. The family settled in or near Mosa or Ekfrid Twps., and their children seem to have settled in the London, Ont. area. Information is needed on this line.
The so-called "Gracie Tree" :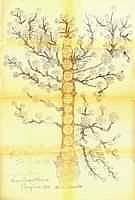 Based on a family tree drawn up in 1873 by James Campbell Gracie of Dumfries, the Gracie Tree shows the ancestors of an Alexander Dobie of Tinwald, Dumfries-shire, from about 1560 to about 1870. John David Dobie and William Currie Dobie (see the two boxes above) are descended from a branch of this tree. There are many gaps and inconsistencies, so your help is very much needed if you have any information.
Click here to see the transcription.
Included in the transcription is much new and corrected information sent to me by Dobie researchers, as well as census information about a few of the families.
Surnames in the transcription are: Aitcheson, Anderson, Bell, Black, Blair, Boyd, Broach, Burgess, Byers, Cleeland, Cowan, Craig / Craik, Currie, Dalziel, Dickson / Dixon, Dobie, Downing, Earnshaw, Ferguson, Fullarton, Gamble, Glover, Gold, Goodsir, Gordon, Haining, Hallett, Halliday, Helme, Herb, Hunter, Jardine, Jeffrey, Johnstone, Koykka, Lawson, Limont, Link, Little, MacGillivray, MacMillan, Martin, Mathieson, McClure, McDonald, McFadzean, McGeorge, McKinnol, McMurdo, Meumann, Miller, Murray, Palmer, Paterson, Ritchie, Robson, Ronald, Scotland, Scott, Seton, Sloan / Sloun, Small, Smith, Somerville, Sproat, Stewart, Stirling, Strathearn, Swan, Telfer, Turner, Wagner, Ward, Webb, Wilkins, Wright.
John David McEachern

(1923 - 2008) son of

John Allan McEachern

and

Mary Tina Dobie,

was shown the original Gracie Tree when he was visiting Dumfries while stationed near there during World War II. He had it copied and brought it back to Canada. The tree shown above is a hand-drawn copy of John's copy.
Click here to see his obituary and a much larger photo.
See a full-size image of the Gracie Tree. This image will be about twice the width of your screen, and was constructed from about 15 scans. There may be several versions in circulation (this one was hand-copied in 1972), so if you have an earlier version I sure would like to hear from you.
Letter By Agnes Dobie, 1849. Agnes had eloped and wrote this from Toronto.
Letter from John Dobie to Walter Bell, 1819. This letter was written from Hardbush (now called Hartbush) in Dumfriesshire, Scotland. The relationship between John Dobie and this Bell family isn't known at this time. The Bells had moved to Miramichi, New Brunswick a year or so previously.
Biography of James Frank Dobie (American author, 1888 - 1964).
Descendants of James Dobie & Agnes Brown first settled in Deux Montagnes Co., QC.
Short obituary of James Irving Dobie of Toronto, died 1923.
Descendants of John Dobie & Jean Thompson (Parish of Kirkconnell, 1670's - 1860's). Connected surnames are:

Broadfoot, Fulton, Shedden, Sumner, White, Wilson.

Disjunction Certificate, John Dobie & Mary Barber Document written in Tortherwald, DFS, SCT., 1820. They first settled in Lanark County, Ont., then where did they go?
Some Dobie Records in the Ontario Archives Some birth, marriage and death records.
Some originators of the Dobie Family A photo gallery -- first time published!
A Dobie - Pattie Connection in Scotland Early & middle 1700's. Connected surnames:

Cashel, Hunter, Johnstone, Little, Patie/Pattie.

DOBIE-SMITH Bible. This family first settled in Lanark County, Ontario, then moved on to Chesley, Bruce County, Ont. Surnames:

Dobie, Elliot, Graham, Halliday, Holliday, Houston, Knox, Livingston, Mair, McLellan, Newell, Smith, Tatlock, Walls.

Transcribed byJay A. Nellis.

Link updated May 21, 2018

Biography of Richard Dobie (Quebec fur trader, c.1731 - 1805). Connected surnames:

Finlay, Freeman, Gerrard, Grant, Jordan.

Descendants of William Dobie & Mary Lindsay (Mainsriddle, Scotland, 1760's). Surnames:

Aitkin, Anderson, Crocket, Dalgleish, Dingwall, Grierson, Irvine, Kennedy, Lindsay, McHolme.

Lineage of Col. William Fraser Dobie submitted when applying for family arms in 1925.
A Short History of Stonihill / Stonyhill, a house which was occupied by the direct ancestors of

Col. William Fraser Dobie

(see the item above) from about 1600 to at least 1647. Four pages of the book History of the Regality of Musselburgh: With Numerous Extracts From The Town Records. are transcribed, thanks to Google Books. Also from the same book, a monumental inscription of

Andrew Dobie

of Tinwald and his wife

Elizabeth Lawson.