Chatsworth Ontario,
United Church Graveyard
and the War Memorial
One weekend in mid-October, 2005, my partner Peter Zorzi and I drove to Owen Sound, mainly to check out real estate prices (expensive!) but also to take some photos of the graveyard where my great-great grandparents, John Dobie and Mary Isabella Russell, are buried. The graveyard side of the church is shown above and the opposite side is shown below. The church's front steps at the far right in the picture above can be seen at the far left of the church in the picture immediately below, and also centre right in M. J. McCarron's black & white photo further below.
There was no direct sun when I took the photos so there were no shadows. This resulted in the gravestone photos being so flat that the inscriptions are virtually unreadable (they were hard enough to read just standing there, and the photos are even harder to decipher). Unlike most of the older stones in the graveyard, the Dobie stone has been cleaned of dirt and lichen by visiting Dobie and McEachern relatives. The stone and base are in excellent condition.
---
The black & white photo of the church below and of the legible inscription on the gravestone (right, above) were sent to me by M. J. McCarron who is a descendant of James Barnes Dobie of Bruce Mines and Thessalon.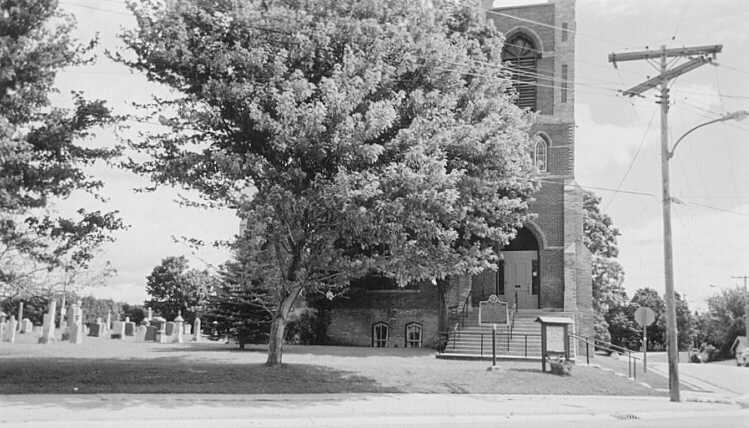 ---
John McKessock and Elizabeth Dobie.
The stone has been partially cleaned.
---
The War Memorial
I had hoped to add the links for each name to their respective entries in the 1901 and 1911 census, as well as to each person's military attestation papers and the Virtual War Memorial website. However, this is not possible with the common names (too many James Ryan's, for example, for me to know which is the correct one. You can search for your ancestors yourself on the Automatedgenealogy.com website. Please let me know about any of the men below who you have found so I can add their links to the list below.
WORLD WAR ONE VETERANS
(names are carved into the stone)
James Ryan
Fred C. Merriam
Hugh McDonald
S. Thomas Brooks
R. Wellwood Crane
1901 census
Attestation Papers
J. Harold Mihorgan
George H. Grindley
Attestation Papers
Howard A. McD-Marsh
Attestation Papers
William J. McKessock
Attestation Papers
G. Clarence Sutherland
Samuel A. Love
Joseph J. Byers
Victor Morrison
D. Clayton Fraser
Frederick A. Barker
Norton McD Fraser
Thomas Brooks
James N. Bowman
Alfred J. Simpson
Clifford D. Froud
Cecil H. Sparrow
G. Bertram Scott
W. Earl Foster
J. Milton Dobie
Robert W. Foster
Melville G. Henry
William J. Finney
Edward A. Howey
Russell A. Dennison
Thomas A. Chisholm
Otto Molson
Percy Evans
A. Clarence W. Hopkins
C. Wilmer Galbraith
J. Gershin Galbraith
Melville S. Nicholson
Lloyd Kirktown
Murray McClure
James F. Mathison
Howard L. Elliott
John A. McLeod
John E. Tuck
WORLD WAR TWO VETERANS
(names are on a bronze plaque)
John A. Shouldice
Scotty MacIntosh
Clayton B. Howey
Aaron G. Bittorf
Gordon A. Powell
Maurice W. Collins
William A. Doyle
---