CHARLES DOBIE : GENEALOGY
JOHN DAVID McEACHERN
JOHN DAVID McEACHERN
26 March, 1923 - 4 Feb., 2008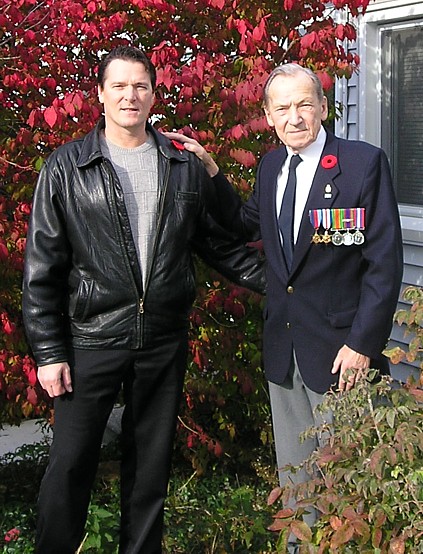 In 1944, while John McEachern was visiting his cousin, Norman Dobie, Jr., in the military hospital in Dumfries, he met a man who owned a copy of what we now call "The Gracie Tree". John had a copy made and he brought it back to Canada with him after the war. The Dobie family owes John a tremendous debt, not only for this single act of preservation of our history, but also for the knowledge of family history which he has passed on to his children and grandchildren.

The photo at right was taken in the fall of 2007, only a few months before he died. Pictured with him is his son, John D. McEachern Jr.

Following is his obituary published in sootoday.com on Tuesday, February 05, 2008.
McEachern, John David : Peacefully at Welland County Hospital surrounded by his children on Monday, February 4th, 2008 in his 85th year. Beloved Father of David (Cathy), Charlotte (Roger) and John (Friend, Franca) . Husband of the late Marian. Son of the late Tina and John McEachern. Survived by his sister Margaret (Bill) and brother Rodger (Carolyn). Predeceased by Mary (Bob), Ellen (James) and Ronnie. Cherished Grandfather of Emily (Brien) Tyler, Erin, Kevin and Kristina. Proud Great Grandfather of Joshua and Carter. Survived by many nieces and nephews. Dad enlisted in the Highland Light Infantry in 1942. He took part in the D Day Landing at Juno Beach and later was wounded at Boulogne. He was a member of Merritton Branch 138 Royal Canadian Legion. Employed with the St. Lawrence Seaway Authority of St, Catharine's, he retired in 1989 with 32 years of government service. A very special thank you to his niece Sue Hutton and her husband Dr. Tim Hutton of Brantford for their kind and loving care of Dad during the past several years. Special thanks also to Dr. Broski and Dr. Hanna, Dr, McMillan, nurses at St. Catharine's General and for the truly wonderful care he received at the Welland Hospital 3rd Floor Nephrology and Dialysis Units. A graveside service will be held at Pine Grove Cemetery,(formerly Kirkwood Cemetery in Little Rapids) in the spring at a date to be announced. Donations to the Heart and Stroke Foundation or the Kidney Foundation of Canada would be appreciated by the family. A dignified accomplished gentleman, we are so very proud of our Dad. He will be dearly missed and forever in our hearts.
---