Descendants of James Barnes Dobie

&

Mary Caroline Lobb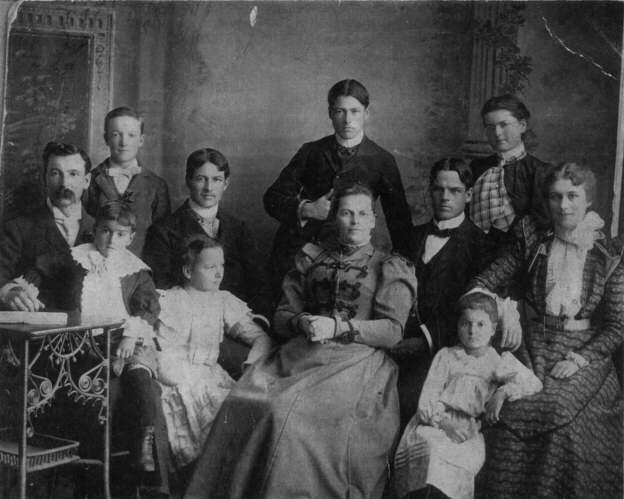 Family of James Barnes Dobie and Mary Caroline Lobb.

---
Back Row - standing:
Joseph Beecher Dobie (b. 1885); Fred Russell Dobie (b. 1881);
Ellen Isabelle Dobie (Nell) (b. 1879);

---
Sitting, L to R:
James Barnes Dobie (b. 1852); Norman Herbert Dobie (on lap) (b. 1893);
John Draper Dobie, (b. 1877); Mary Tina Dobie (in front) (b. 1883);
Mary Caroline (Lobb) Dobie (b. 1854); James Samuel Dobie (b. 1873);
his wife Esther Maude Smedley (b. 1877); Minna Kathleen Dobie (in front) (b. 1890).

---
Laser photocopy courtesy of John McEachern.
James Barnes Dobie, born 20-Jul-1852, Toronto, Ont.163 occupation: Merchant, married 18-Sep-1877164 Mary Caroline Lobb, born 31-May-1854, Bruce Mines, Ont.165 (daughter of Samuel Lobb and Ellen Trainor) died 25-Oct-1920, Thessalon, Ont.166 buried 28-Oct-1920, Thessalon, Ont.; Little Rapids Cemetery167 James died __-Feb-1938, Sudbury, Ont.168 buried Thessalon, Ont.; Little Rapids Cemetery169 Canadian Almanac 1875 lists J.B. Dobie as Postmaster of Bruce Mines, Ont. Lived in Sudbury, Ont. in 1928 (W.C. Dobie death notice).

James Samuel Dobie, born 15-Oct-1873, Bruce Mines, Ont.170, occupation: Civil engineer, surveyor, married 26-Oct-1898, in Toronto, Ont.171, Esther Maude Smedley, born 18-Feb-1877172, (daughter of Charles Smedley and Esther Graham) died about 1958117, buried Thessalon, Ont.; Little Rapids Cemetery173, James died 28-Oct-1942, Blind River, Ont.174, buried 31-Oct-1942, Thessalon, Ont.; Little Rapids Cemetery175, Marriage witnesses: George Graham, Gertrude Smedley. Married by I Odery, Methodist.
James was a Dominion Land Surveyor. Dobie Township in Rainy River District was named after him. Note reference in 1987 Dobie Connection, Pg. 4. See obituary of James Samuel Dobie.

Marjorie Ellen Coatsworth Dobie, born 16-Jul-1901, Bruce Mines, Ont.176, married177, David Munroe, . Lived in Ormstown, Quebec in 1942 (father's obituary). Full name in birth record is "Coatsworth Ellen Marjorie Dobie".
Marian Harriet Dobie, born 24-Feb-1914 in Thessalon, Ont., died 1986, occupation School teacher. Lived in Thessalon in 1942 (father's obit).
She married John Arthur Fullerton, 1938, born 1912, (son of James Albert Fullerton and Jane McAulay) died 1965. John: A researcher says he was an MP for 8 years before he died. Four children.
Two more children possibly living. Many grandchildren and great-grandchildren. Connected surnames: Beemer, Derby, Hocken, Hoogendoorn, Keith, Mundell, Perkins, Rosenfield, Wardell, Wilson, Wing.

John Draper Dobie, born 8-Mar-1877, Bruce Mines, Ont.180, occupation: Auditor, married 23-Apr-1902, in St. Catharines, Ont.181, Jessie Lucilla Fenton, born __-___-1873, Brooklyn, N.Y., U.S.A.182, (daughter of Solomon Fenton and Ellen Palmer). John died 20-Mar-1946, Clearwater, Fla., USA183, Marriage witnesses: F.G. Coy, Anita Fenton, St. Catharines. Married by Herbert Lee, Methodist. John McEachern says "no issue".
Ellen Isabelle (Nell) Dobie, born 22-Jan-1879, Bruce Mines, Ont.184, married 31-Oct-1906, in Thessalon, Ont.185 James Anton Town, born 22-Sep-1882, Orillia, Ont.186 (son of William Henry Town and Mary Ann Tiffin) occupation: Merchant. Ellen died 25-Nov-1920, Thessalon, Ont.187 buried 27-Nov-1920, Thessalon, Ont.; Little Rapids Cemetery187, Listed as "post mistress" in 1901 census, Thessalon, Ont. Second name spelled "Isabel" on birth record, "Isabelle" on tombstone (per John McEachern), who also says "no issue". Marriage witnesses: Lorne Fowler, Sudbury; M. Tina Dobie, Thessalon. Married by Rev. A.N. St. John, Methodist.
Frederick Russell Egerton Dobie, born 2-Jan-1881, Thessalon, Ont.188, occupation: Clerk in Gen. store, died about 1916, France. "Russell Egerton" from back of photo provided by John McEachren, June/97.
Mary Tina Dobie, born 29-Sep-1883, Thessalon, Ont.189, married 22-Jan-1913, in Thessalon, Ont.190, John Allan McEachern, born 1878191, (son of Allan McEachern and Margaret Brown) occupation: Mine promoter, died 2-Jan-1938177, Mary died 6-Mar-1954, Toronto, Ont.192 John: Marriage witnesses: Walter McGuine(?), Thessalon; Minna Dobie, Roosevelt(?) Hospital, New York, NY.; Minister: Howard H. Eaton, Thessalon. Surname is spelled "McEachren" and "McEachern" in marriage documents.

Six children. Connected surnames: Briscoe, Cook, Cooper, Maley, Swain.

Joseph Beecher Dobie, born 25-Jun-1885, Thessalon, Ont.193, occupation: Prospector194, died __-Apr-1954, Thessalon, Ont.192 "Beecher" from back of photograph provided by John McEachren, June/97 (see photo at the top of this page). Obituary states he died on a Sunday, making it April 4th, 11th, 18th or 25th. Birth date of 11-July-1885 given on 1901 census (Thessalon) and in obituary.
This is the obituary of Joseph Beecher Dobie, as published in the Sudbury Daily Star, April, 1954. Photocopy sent me July, 1997 by John McEachern.
Developer of Thessalon Dies Following Stroke
(Special to The Sudbury Star)
THESSALON--A man who had played an outstanding part in the development of not only the District of Algoma, but the whole of Northern Ontario, is dead.
Joseph Dobie, who would have marked his 69th birthday in July, died in the Thessalon Red Cross Hospital Sunday morning, the aftermath of a stroke.
The man who claimed the distinction of being the area's oldest living person to claim Thessalon birth, succumbed to his illness just one month after the death of his sister, the late Mrs. John A. McEachern, of Sudbury, who died in Toronto on March 6.
Joseph Dobie, a son of the late Mr. and Mrs. James B. Dobie, was born here July 11, 1885. He grew up in Thessalon and following his graduation from the local public school, he enrolled in Upper Canada College, Toronto, where his secondary school education was acquired.
In 1914, he shared with another local man, Milton Kinsley, the distinction of being the first Thessalon volunteers to join the Canadian Army in the first world conflict. He had four years of overseas duty.
Upon his return from England in 1919, he took up prospecting, a life which he followed religiously for many years. Working with his brother, the late James S. Dobie, he travelled to every corner of the northern portion of the province. In 1919, the brothers ran a continuous traverse line following the course of the Albany River from the Manitoba boundary to Hudson's and James Bay, over to the Quebec boundary.
In later years the late Mr. Dobie was employed with various Northern Ontario mines, including the Dome, in the Porcupine area and simultaneously, continued his prospecting career. For the past year he had been in the employ of the McFadden Lumber Company.
The late Mr. Dobie is survived by one sister, Mrs. F. R. Hutchinson, of Huntington, Penn., one brother, Norman Dobie, of Sudbury and numerous nieces and nephews.
The body will be at rest at the home of his niece, Mrs. John A. Fullerton and Mr. Fullerton, from Tuesday afternoon until Wednesday afternoon, when the funeral service will take place at Zion United Church, here.
Minna Kathleen Dobie, born 1-Aug-1890, Thessalon, Ont.195, occupation: Nurse196, married 18-Jul-1916, in Thessalon, Ont.197 Fred Rudy Hutchison, born about 1887, Alexandria, PA, USA198, (son of George R. Hutchison and Mary E. Piper) occupation: Medical doctor196, "Minna" spelling from marriage record. Marriage witnesses: Norman H. Dobie and J. B. Dobie, both of Thessalon. Married by Joseph Denny, Methodist.
Fred: Lived in Huntingdon, Pa., USA in 1942 (J.S. Dobie obit, Bruce Mines Spectator, Nov. 5, 1942). "Hutchison" spelling in marriage record.

Four children. Connected surnames include: Dunkle, Dutlinger, Steel.

Herbert Edmund Dobie, born 19-Apr-1893, Thessalon, Ont.199 Possibly a twin of Norman who died young.
Norman Herbert Dobie, born 19-Apr-1893, Thessalon, Ont.200 married 179, Ellen Elizabeth Graham, born 1-Jul-1898, Spragge, Lewis Twp., ON201, died 27-Oct-1978, Meaford, ON201, Norman died 4-Jan-1962201 Ontario birth record #001579-93 (MS 929 Reel 114) gives the name of "Herbert Edmund".
Ellen: Surname from John McEachern, "Elizabeth" from Jay Nellis.
This obituary was emailed by Jay A. Nellis, October, 1997.
MRS. ELLEN ELIZABETH DOBIE
Mrs. Ellen Elizabeth Dobie passed away at her residence in Meaford on Friday, October 27th, 1978, in her 81st year. Mrs. Dobie was born July 1, 1898 in Spragge, Lewis Township. She married Norman Herbert Dobie in Thessalon 60 years ago, and he predeceased her on January 4, 1962. She came from Sudbury 9 years ago to reside in Meaford. Mrs. Dobie devoted her life to her family. She is survived by sons Norman of Sault Ste. Marie, Donald of Toronto and Jerry of Meaford. She is also survived by daughters Mrs. Barbara McCarron of Malton, Mrs. Gay Lemaitre of Scarborough, and Mrs. Betty Ogloff of Toronto. There are 15 grandchildren and three great grandchildren. Also survived by two sisters, Mrs. Mable Baxter of Sault Ste. Marie and Mrs. Lila Towle of Orilla. The funeral service was conducted at the Ferguson Funeral Home in Meaford on Monday, October 30th at 2 p.m. Rev. William Rowles officiated. Pallbearers were Messrs. Ed Besworth, Dr. David Robinson, Barry Jacks, Wally McCarron, Frank Lemaitre, and Terry Lemaitre. Interment at Lakeview Cemetery.

Six children. Connected surnames include: Kane, Lamaitre, McCarron, Ogloff.

Claude Salisbury Dobie, born 6-Nov-1895, Thessalon, Ont.203, Not listed in 1901 census (Thessalon). Ontario birth record #001475-96, with "Norman Claude" crossed out, gives birth date of 15-Nov-1896. John McEachern says "died in infancy".
---
See Disclaimer
---