David Dobbie, 88, resident of Grants Pass, Oregon for nearly half a century, died December 6, 1973 in Portland, where he had resided near his sisters since 1968.
Born January 14, 1885 in Glasgow, Scotland, he was a grocery clerk most of his life, working at Truax and Kinney's grocery for many years, later at Milledge's grocery. He came to Southern Oregon in 1918, and married his first wife, Clara Adella Engel, in 1919.
Before moving to Grants Pass, David Dobbie homesteaded in Southwestern North Dakota, about 25 or 30 miles north of Bowman.
His father, Alexander King Dobbie, a carpenter by trade, followed in 1909, hoping to get work building homes – maybe even barns and sheds. "Apparently, there was a slump of available jobs in the Hartsdale area," said his niece, Virginia Smith Lewis Hanson, a resident of Grants Pass. He stayed a couple of years then returned to Hartsdale, New York, where his wife kept boarders in their home.
While homesteading in North Dakota, Alex and Dave Dobbie raised grain in the "hail belt." Dave said the day he went to Dickinson in Billings County to file his claim, it was 62 below zero. "Locomotives were frozen to their tracks," he recalled.
In 1913, he went back to Hartsdale to recuperate from a broken leg. "Apparently he had been thrown from a horse and dragged quite a distance," Hanson related. "If I correctly recall, he was taken to the nearby train depot to be transported to the nearest hospital. He had to wait two or three days for a train to arrive. His injury resulted in a permanent limp."
"Dave's brother, Robert, did not join the North Dakota adventure," Hanson said. "Of course, the family blamed Rob's wife, Beth, who was never a family favorite, for that decision. Whether or not it was truly her fault, I do not know."
Services for David Dobbie were held at 1pm Monday in Hull and Hull Chapel with the Rev. O.E. Summers of Assembly of God officiating. Mausoleum entombment will be at Hawthorne Memorial Gardens in Portland.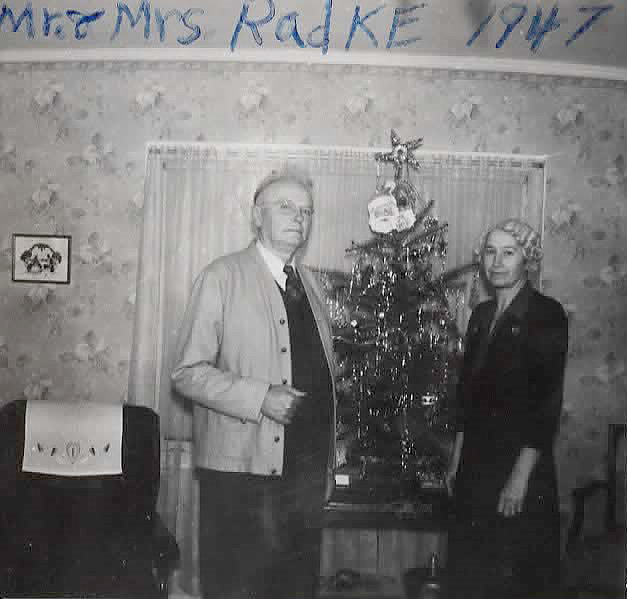 William Radke and his wife Helen Rose Dobbie, in 1947.
Photo courtesy of Wendie Thomas.
---
Surviving his death were two sisters, Helen Dobbie Radke and Catherine Dobbie Smith, both of Portland; three nieces, including Virginia Smith Hanson and Harriet Smith Guardino, aunt and mother of the author.
David Dobbie was married twice. His second wife was Anne Murphy Patterson. They were married by Rev. Catherine Dobbie Beresford, first cousin to Helen and Harriet.
Clara Adella Engel Dobbie, first wife of David Dobbie, died September 25, 1938. She was born November 7, 1882 in Pepin, Wisconsin. She was 55 years, 10 months and 18 days of age.
She lived in Wisconsin and Marmarth, North Dakota, a little town about 25 miles northwest of Rhame, before coming to Grants Pass in 1918 to become the bride of David Dobbie. They were married in the Newman Methodist parsonage by Rev. M.T. Wire, then pastor of the Methodist church in Ashland.
Clara Dobbie was survived by her husband, David Dobbie of Grants Pass; one sister, Mrs. Lavina "Vinnie" Engel Howard of Keno, Oregon; and three brothers, Will Engel of Pepin, Wisconsin; Bert Engel of Chippawa Falls, Wisconsin; and John Engel of Madison, Wisconsin.
"Both of Uncle Dave's wives were buried in Hillcrest. Not sure why he chose a mausoleum. Perhaps his second wife Anne was buried beside her first husband. Who knows? Anne died in 1964," according to Harriet Smith Guardino.
Helen Rose Dobbie Radke, the younger sister of David Dobbie and Catherine Dobbie Smith, was born July 17, 1894, in Harsdale, New York. She died March 29, 1994 in Grants Pass, Oregon. Her body was shipped to Portland, Oregon to be buried in a vault at Lincoln Memorial Park next to her husband, William Radke.
Helen Dobbie was the second wife of Will Radke. He was previously married to Clara's sister, Gustie. Radke and Dobbie married in Grants Pass following her death.